Greetings!
November was a productive month for sure! I can't believe we only have a month of the semester left! Time to start planning next semester's calendar and music!
But first, let's look at November!
TakeNote Visits CHS
On November 5th, we had the opportunity to have Clemson's female a cappella group, TakeNote, come perform for our choir class AND do a pop a cappella workshop! The girls got to learn one of their arrangements of "The Middle" and sing it with them! It was a cool experience to hold a piece of music in a genre they have never performed before. We had a great time!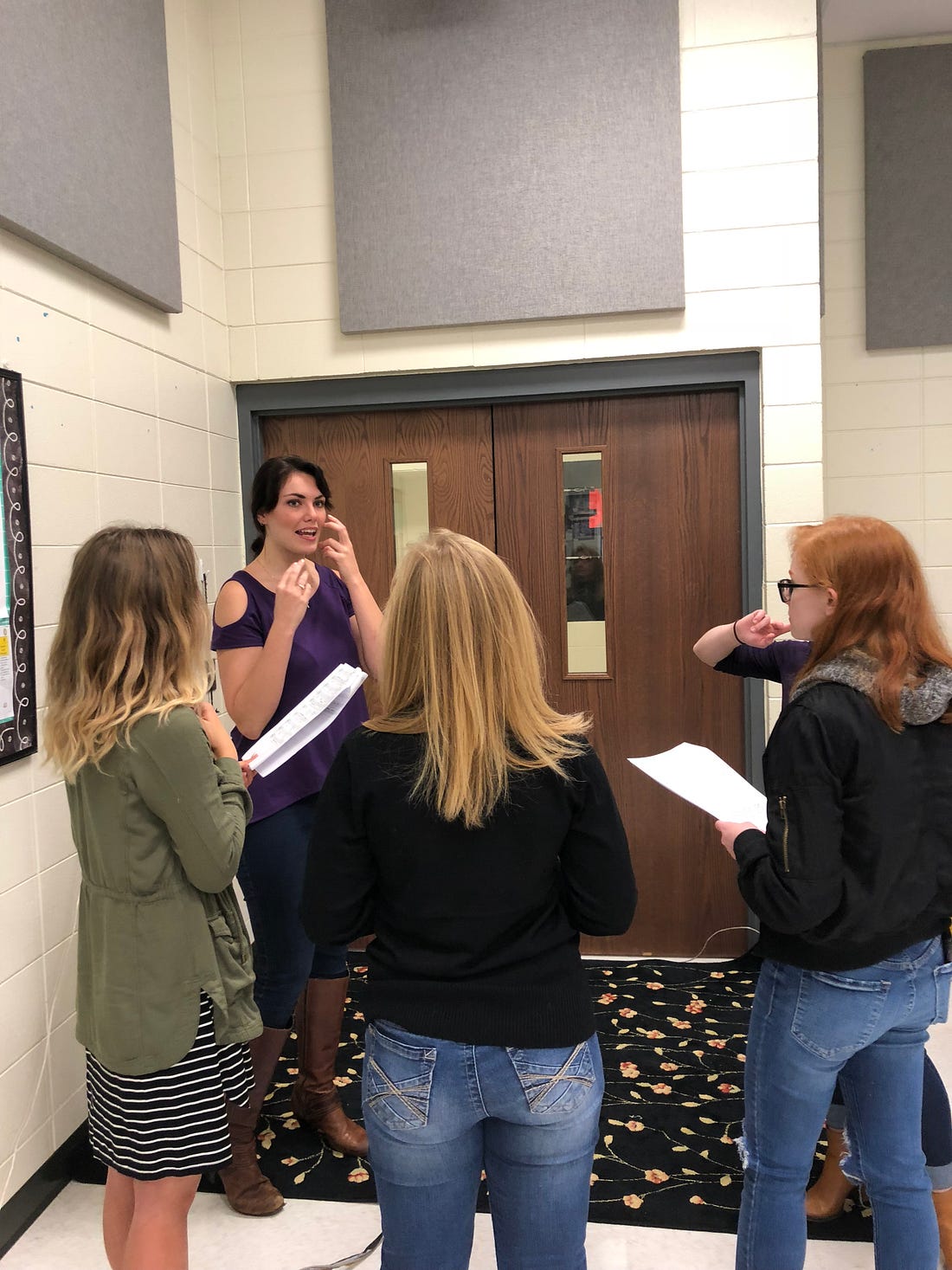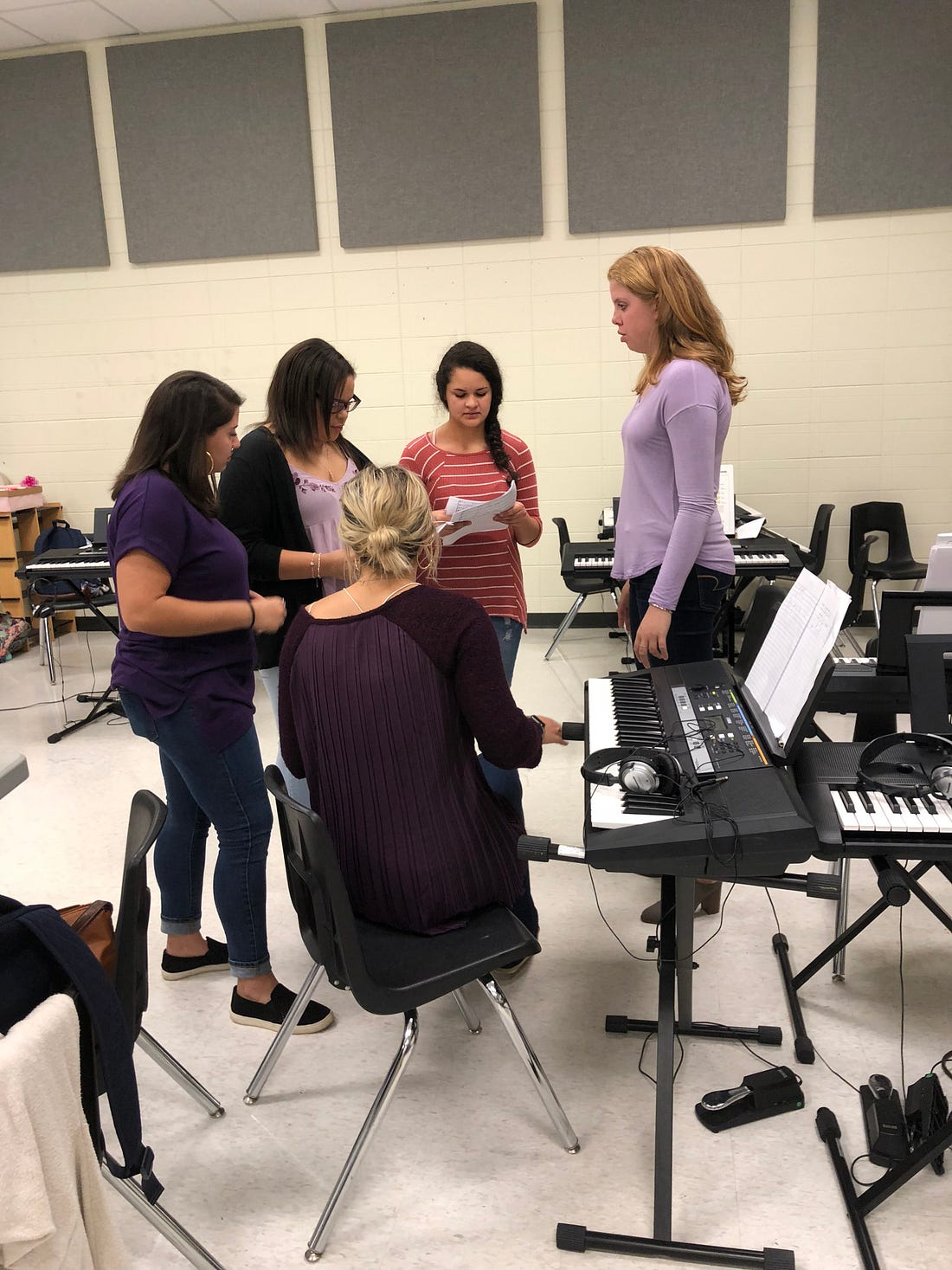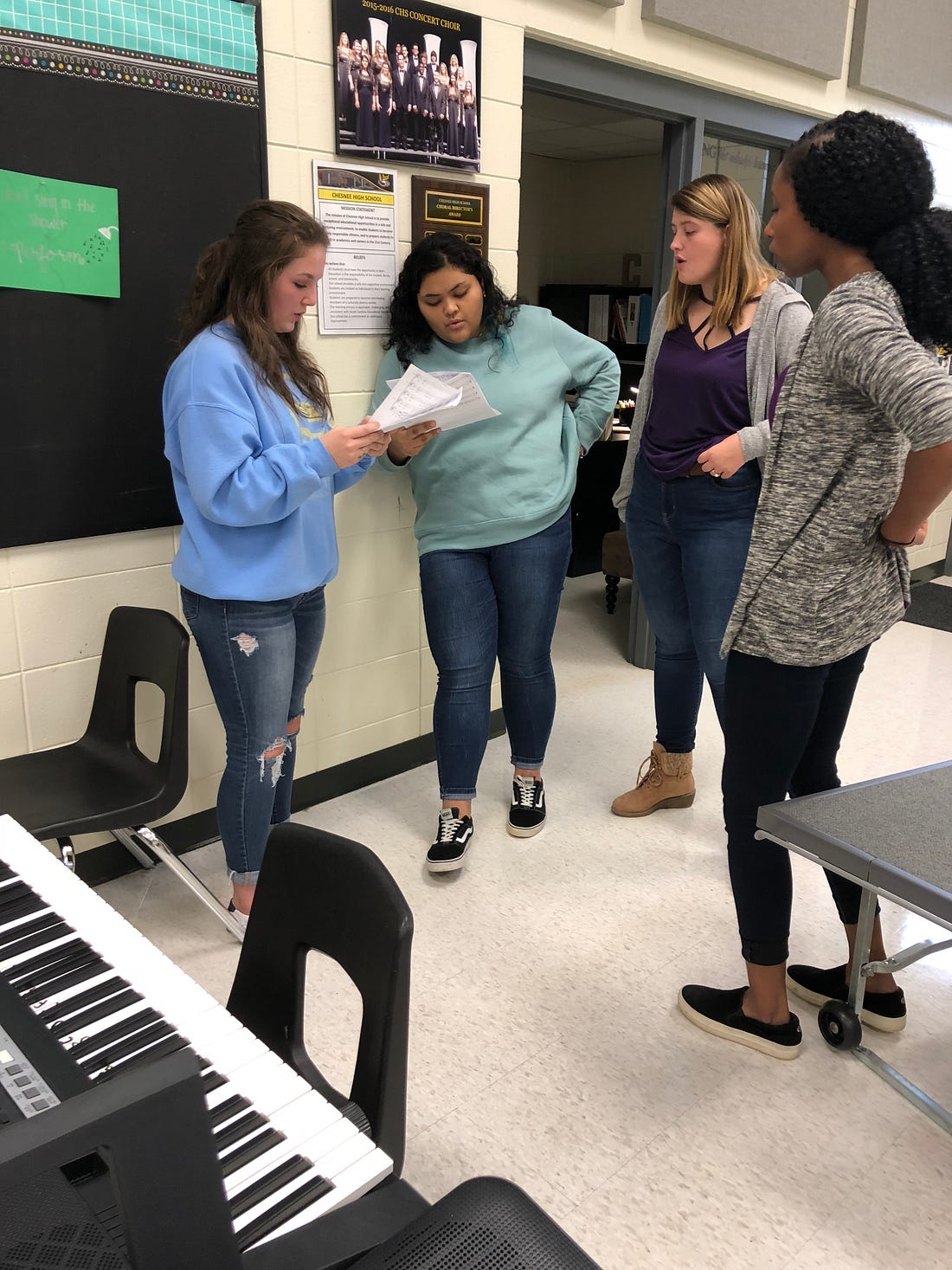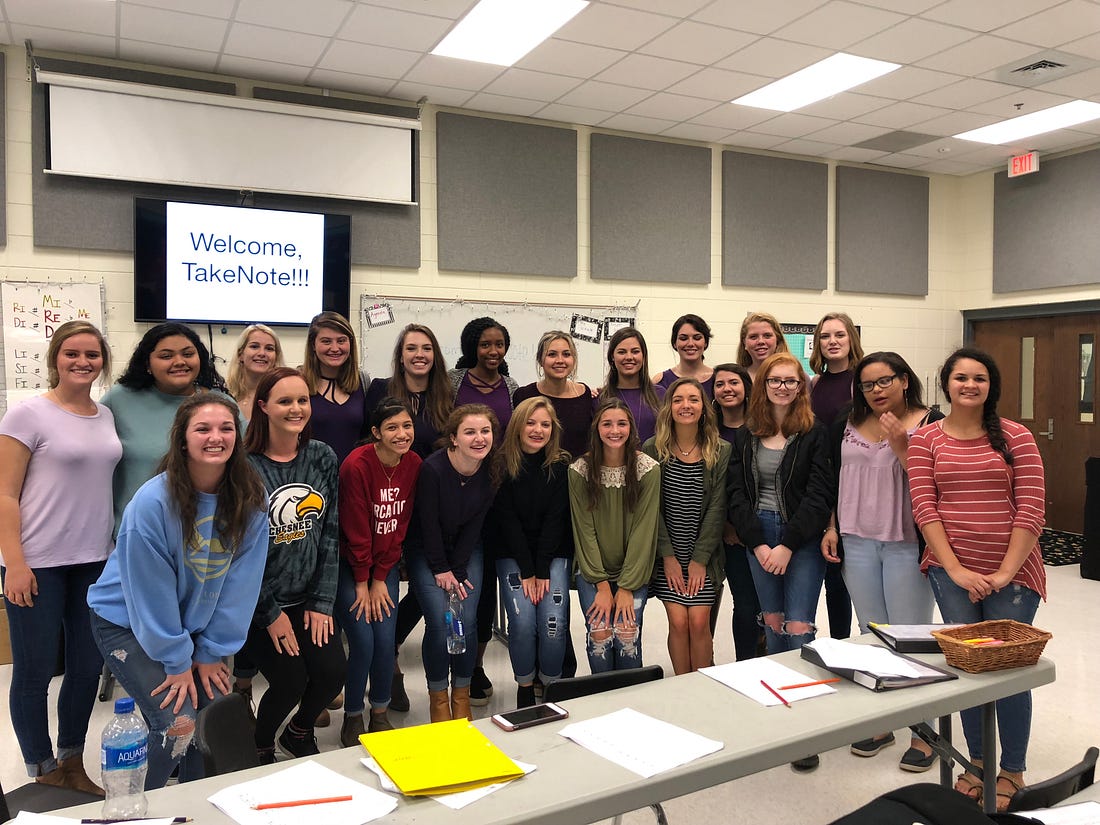 Veteran's Day Performance
Every year, all of the Chesnee performing ensembles participate in the Veteran's Day celebration at our school. This year, we sang an arrangement of "My Country Tis of Thee" and we teamed up with the CHS orchestra to perform an awesome arrangement of "Mansions of the Lord." It was a beautiful ceremony all around!
We love "Mansions of the Lord" so much that we added it to our winter concert program, and the girls will be singing it a cappella, WITHOUT a director!! They have really taken a liking to it, and have worked hard to make it a special performance!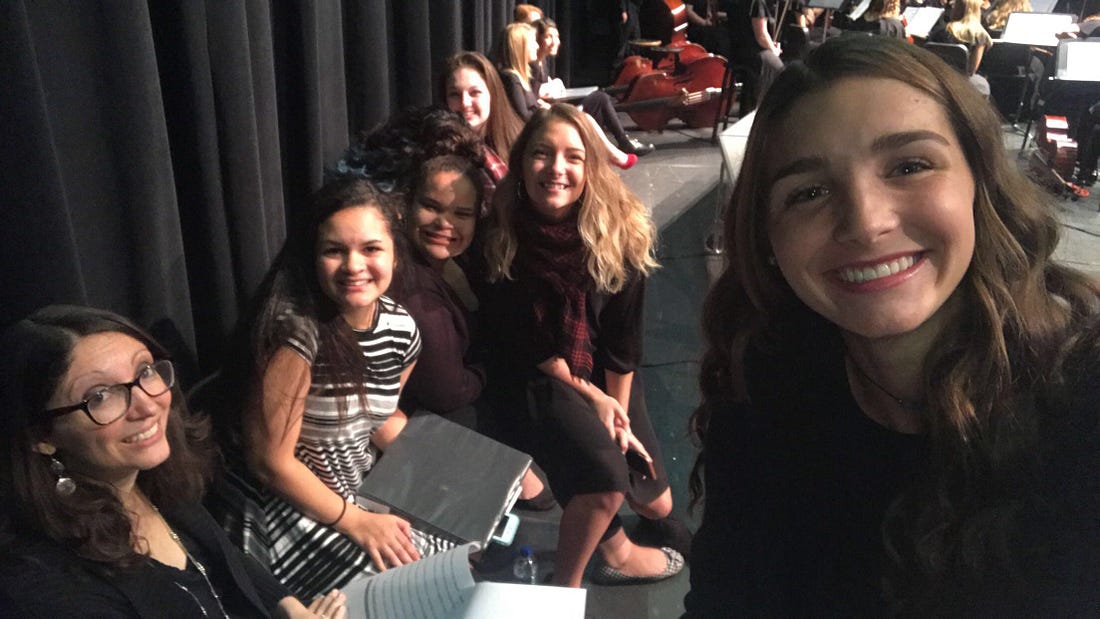 All State Auditions
On Wednesday, November 7, I took 4 girls to audition for the SC All State Choir! We had a great day, and all of the girls were proud of their performance. We sadly did not have anyone make it this year, however, we had one soprano, Hannah, miss the score cut off by three points, and a soprano 2, Maggie, who received a perfect sight singing score! I'm super proud of them, and look forward to bringing more students to audition next year!
Honors Credit
At the November 13th District 2 Board Meeting, the board approved our choral program to receive honors credit! Next semester, our girls will receive honors credit as their ensemble will be considered our advanced group. We will also have a brand new choir next semester consisting of only new students. This organization of ensembles will allow for future growth of the choral program, and provide an opportunity for those students wanting a more in-depth and rigorous choral experience.
Name Change!!
As the girls and I started talking about the new honors credit choir, I felt the need to give them a new "identity." I gave them a list of ensemble names that I collected from various high school choral program websites, and had them vote on the name they wanted their ensemble to be called. I rendered no opinion, as I was happy to let them be who they wanted to be! They unanimously voted on Viva Voce (viva vo-chay) which is Italian for "living voice."
What's funny about them choosing that name, is that it is the name of chamber ensemble I was in at Clemson when I decided I wanted to be a choral director. The group at Clemson is currently called Kantorei, but it's still the same kind of group. :)
So with the honors choir being called Viva Voce, the new choir next semester will serve as a beginner/intermediate ensemble. They will be called Chesnee Singers!
I think it's important to give the choirs an identity as it creates a sense of ownership among the group. And, it just sounds cooler when the choir has a name! Right?!
What's left this semester?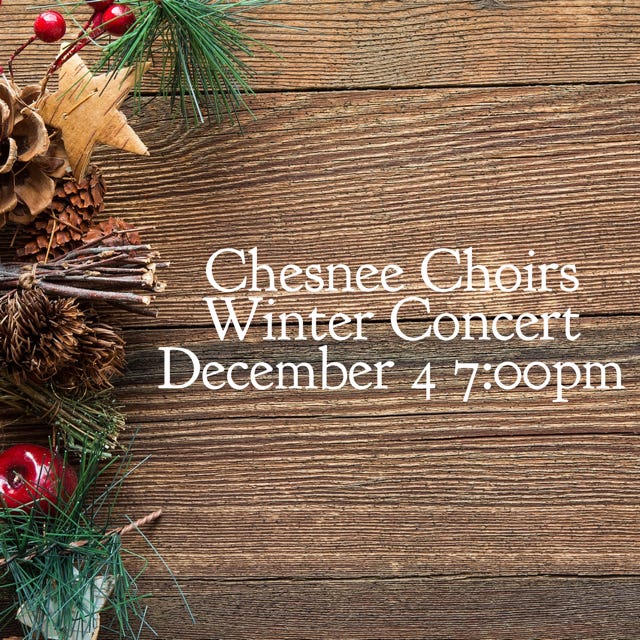 We would love for you to join us for our Winter Concert on Tuesday, December 4th at 7:00pm in the CHS Auditorium. This will be the debut for the Voices of Chesnee community choir, as well as our first performance as Viva Voce! Admission is free, though we will be accepting donations!
Viva Voce will be performing at the Chesnee Elementary Fine Arts Night on December 6th at 6:30pm! We will sing some carols as well as some tunes from our Coffee House performance! We'd love to see you there!
Until next time!
Mrs. Brazell